News
Metro gas prices widely fluctuating
NCN has seen prices ranging from $3.17 to $3.60 a gallon.
Thursday, September 22nd 2022, 7:58 AM CDT
After dropping for 98 straight days, gas prices nationwide jumped one-penny on Wednesday.
At the same time in recent days consumers in and around Omaha are seeing wide swings in prices at the pump.
Four months ago, Metro gas prices were peaking at nearly $4.70 a gallon.
Right now, with the national average down nearly a dollar to $3.68, Nebraska drivers are spending another 14 cents less, $3.54.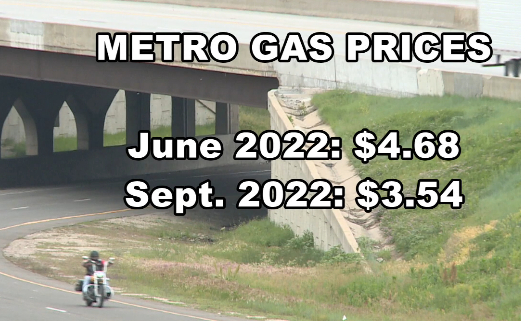 But in the last few days, gas prices in Omaha have been on a roller coaster ride.
A station near 72nd and I-80 was selling regular unleaded-ethanol for $3.29 a gallon on Tuesday, the very next day the same sign read $3.55, a 26-cent jump.
And while plenty of stations in town are now running at $3.59 a gallon, drive just a bit and you'll likely find someone else at $3.27, and make that $3.17 if you pay with cash at one south Omaha outlet.